The Culemann Burial Chapel of the Nikolaikirche in Berlin-Mitte – Germany
Culemann Burial Chapel of the Nikolaikirche in Berlin-Mitte Conservation of the Gothic Wall Paintings in the Culemann Burial Chapel of the Nikolaikirche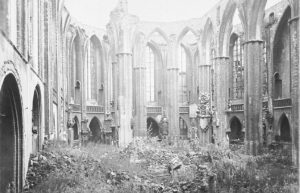 Unlike other European capitals, Berlin has very few medieval structures. The Nikolaikirche in central Berlin, along with the nearby Marienkirche, the Holy Spirit Chapel, and the Nikolaikirche in Spandau, are significant sacred buildings that still preserve original medieval wall paintings.
The Culemann burial chapel in the choir walk of the Nikolaikirche houses two medieval wall paintings with depictions of saints, recessed in wall niches. The left wall painting shows Saint Catherine and Saint Barbara. The right wall painting depicts Anna Selbdritt and Saint Magdalene. The paintings date from the second half of the 15th century.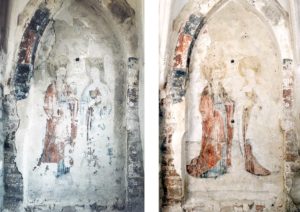 In the context of the reconstruction of the Nikolaikirche between 1986-88, the paintings were rediscovered in a previously walled-up burial chapel. However, the fine detail and color intensity present in 1988 had largely faded in the subsequent years. Due to the complexity of the damages, a project to save the paintings was commissioned under the supervision of the Berlin State Office for Monument Protection and led by Jörg Breitenfeldt from 1996 to 2002.
The first part of the project focused on assessing the condition and damages of the paintings and identifying the causes of their decay. In the second part, methods for preserving the paintings were developed and tested through simulations. In the third part, the paintings were saved from decay, the conservation of the two late Gothic paintings in the Culemann Chapel was completed, and the chapel was reopened to the public with its original color scheme. The conservation-restoration also included the implementation of a complex climate control concept for the long-term preservation of the paintings.
OBJECT
Nikolaikirche, Berlin-Mitte – Culemann Burial Chapel
Client
Senate Department for Urban Development, Berlin – Berlin State Office for Monument Protection
REALIZATION
1996 – 2002
Project Manager and Chief Restorer
Dipl.-Rest Jörg Breitenfeldt M.A.
Scientist
Dr. Bernd Hermoneit
Publication
Jörg Breitenfeldt, Bernd Hermoneit: Die Rettung der gotischen Wandgemälde in der Culemann-Grabkapelle der Nikolaikirche zu Berlin. Grenzen und Wege einer Konservierung und Maßnahmen zu ihrem zukünftigen Erhalt. in: Jahrbuch Stiftung Stadtmuseum Berlin [Hrsg.], Band IX, Berlin: Henschel, 2004